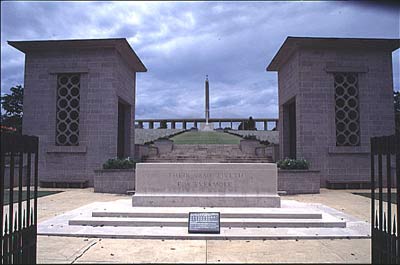 Kranji War Cemetery, Singapore
View cemetery plan
Before 1939 the Kranji area was a military camp and at the time of the Japanese invasion of Malaya, it was the site of a large ammunition magazine. On 8 February 1942, the Japanese crossed the Johore Straits in strength, landing at the mouth of the Kranji River within two miles of where the war cemetery now stands. On the evening of 9 February, they launched an attack between the river and the causeway. During the next few days fierce fighting ensued, in many cases hand to hand, until their greatly superior numbers and air strength necessitated a withdrawal. After the fall of the island, the Japanese established a prisoner of war camp at Kranji and eventually a hospital was organised nearby at Woodlands.
| | |
| --- | --- |
| Singapore Civil General Hospital Memorial | The Cross of Sacrifice with the Memorial and Pylon behind |
During the last hours of the Battle of Singapore wounded servicemen taken prisoner and civilians massacred by the Japanese were brought to Singapore Civil General Hospital in their hundreds. Many were already dead on arrival, many more succumbed later, and the number of fatalities was such that burial in the normal manner was impossible. Before the war an emergency water tank had been dug in the grounds of the hospital, and this was used as a grave.
After the reoccupation of Singapore, the small cemetery started by the prisoners at Kranji was developed into a permanent war cemetery by the Army Graves Service when it became evident that a larger cemetery at Changi could not remain undisturbed. Changi had been the site of the main prisoner of war camp in Singapore and a large hospital had been set up there by the Australian Infantry Force.