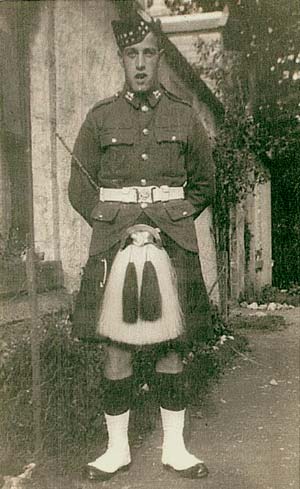 Pte James A Barclay
Drumblade c1936
James Alexander Barclay was born at Turriff on 25th May 1914, the eldest son of John Barclay and Eleanor Smith. His father, a farm servant, was brought up on the family farm of Newton of Dunlugas, King Edward, his mother came from Turriff. John spent his working life in farm work on farms in the Turriff, Cornhill and Huntly areas. This accounts for the families connection with Kennethmont.
James had five brothers and six sisters and was known to his family and friends as Jim. On leaving school at 14 he too began in farm service. In 1932 his father was living and working at Claymires at Ordiquhill while Jim was working at nearby Auchip, Fordyce. It was from here that Jim joined the Regular Army c 1932. It is known that his seven years with the colours was due to end shortly after war was declared in Sept 1939.
The family were at Wraes, Wardhouse when they were advised that Jim was missing in 1942 having moved there from Kirkton Mill, Drumblade.
When his death was finally confirmed to his parents the family had moved to Braeside of Wartle.
His brothers Bill and Jake also saw war service. Taken prisoner with the 1st Gordons at St Valery in June 1940 Jake spent the duration as a POW.
His parents later moved to Kemnay.