Erected by
William Middleton
in memory of his wife
Annie Mitchell
who died at Little Shanquhar, Gartly
25 Oct 1898 aged 43 years;
also of their son
Pte William Middleton
who died 8 Dec 1918 aged 25 years
and is interred in Tournai Cemetery, France;
and of the said
William Middleton
who died at Turriff
10 March 1926 aged 75 years
Colour photographs taken Jan 2002
Author's update, Armistice Day 2007
As the Great War progressed the horrific loss of life became only too apparent to grieving communities throughout Scotland, in particular the casualties lost on the Somme battlefields from July to November 1916, many of which had already made plans to erect a lasting memorial to those who had gone off to war, never more to return home.
The thoughts of one man, John George 8th Duke of Atholl, however, turned to commemorating all Scots who had fallen in the war. So began, from a meeting In the spring of 1917 at which The Duke of Atholl gathered around him a number of leading and powerful Scots, a campaign to realise his ambitious plan. These included, Lieutenant General Sir Spencer Ewart, General Officer Commanding in Scotland, a devoted Cameron Highlander and accomplished historian; Lieutenant Colonel D. W. Cameron of Lochiel; Sir Hector Munro of Foulis; Lord Balfour of Burleigh and Captain George S. C. Swinton.
The Scottish National War Memorial (SNWM) was eventually built within the walls of Edinburgh Castle and officially opened on 14th July 1927 by the Prince of Wales. The King and Queen were its first visitors.
The memorial building has individual areas of commemoriam for each of the Scottish regiments and services. The names of all Scots casulties were recorded in regimental Rolls of Honour, their names being gleaned from various official sources. To qualify for inclusion the casualty had to have been :
"A member of the Armed Forces of the Crown or of the Merchant Navy who was either a Scotsman (i.e. born in Scotland
or who had a Scottish born father or Mother) or served in a Scottish Regiment and was killed or died (except as a result of suicide) as
a result of a wound, injury or disease sustained (a) in a theatre of operations for which a medal has been or is awarded;
or (b) whilst on duty in aid of the Civil Power."
For reasons unknown Willie Middleton's name was not forwarded to the SNWM prior to 1927. This is most likely due to his name being missing from the official list of casualties published by the War Office in the document... Gordon Highlanders - Soldiers Died in The Great War. No doubt due to a clerical error, this was one of the main sources used by SNWM to compile their Roll. For a variety of reasons such omissions are not uncommon and SNWM records are updated when they are convinced by factual evidence which support the addition of a qualifying individual.
Prior to publication of the SNWM Roll on the Internet in recent times the only means to view the regimental records was to visit Edinburgh. I discovered the ommission in 2004 and supplied SNWM with considerable supporting evidence, including his Death Certificate sent earlier this year.
In his letter of 8th November 2007 Lt Col I Shepherd, Secretary to the SNWM Trustees confirms that, 80 years after the Memorial was opened, the name of 241236 Pte William Middleton has now been added to The Gordon Highlanders Roll of Honour.
LEST WE FORGET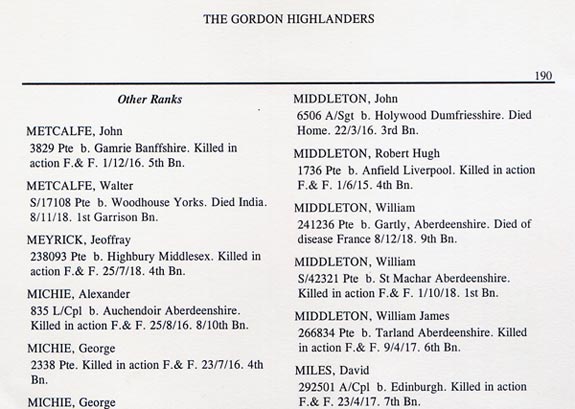 Page 190 of the Gordon Highlander's Roll of Honour, Other Ranks, now includes 241236 Pte William Middleton

A link to the SNWM website can be found on the Links page of this website