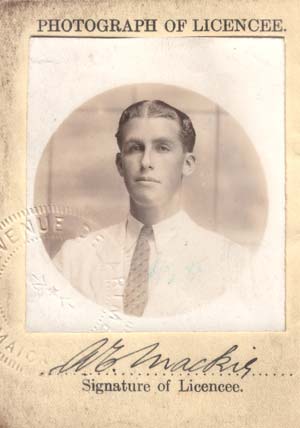 Alexander Esson Mackie
Alexander Esson Mackie was born on the family croft at Brae of Cults Kennethmont on 15th June 1915, son of James G and Annie Mackie. He had four brothers and a sister and became known to family and friends as Sandy. He was employed by a bank in the nearby market town of Insch but was later transferred to an overseas post on the Caribbean island of Jamaica.

On a Driving Licence dated 8th April 1938 he is residing at 7 Haining Street, St Andrew. St Andrew is a Parish of Jamaica. The capital and financial centre of Jamaica, Kingstown, extends into St Andrew, and it is fairly certain Sandy worked in a bank there.
Well out of the way, in an exotic, comfortable paradise island in the sun when war broke out in September 1939, he decided it was his duty to return home and serve his country. He could quite easily have sat the whole thing out in Jamaica. His brothers also joined the services.
Sandy and a friend borrowed some money and worked their passage back to Britain from Jamaica on a banana boat. He joined the RAF and underwent training as a pilot.
Only a week before his death Sandy was home at Brae of Cults on leave. He had been recently promoted to the rank of Pilot Officer and said he was commanding nine crews bound for The Middle East. He hoped to be out there before Winter.

At the time of his death Sandy was stationed at RAF Harwell in Oxfordshire. This airfield was used by No.15 Operational Training Unit and the squadron was using Wellington aircraft at this time. No.15 OTU started a new task in May 1941 training crews for Wellington squadrons overseas. The Ferry Training and Despatch Unit was formed at Harwell to train selected crews from No.15 OTU for Wellington transit to the Middle East.
Probable destination units were No.37 or No.38 Sqn based at Shallufa (Egypt) or No.40 Sqn which left Alconbury on 31/10/41 for Luqa (Malta).


Sandy Mackie was the Pilot of Wellington Bomber Mark 1C, number X-9989 when it took off from RAF Harwell in the early morning of 25th Oct 1941 on a ferrying flight to Gibralter en route for the Middle East. The aircraft failed to gain height after a normal take-off due to the accidental lowering of the wing flaps. It crashed about six miles away at Aldworth, Berkshire at 0355 and burst into flames. Five of the six man crew were killed. The sole survivor was seriously injured and died three weeks later.


The RAF enquiry into the accident concluded that a faulty hydraulic system leading to a failure of the flaps was the main cause.
Sandy Mackie and his crew were found blameless.
(Click to view RAF-AHB letter and crew list.)