From here they were put to work work on the now notorious Burma-Siam railway. Built by native coolies and Commonwealth, Dutch and American prisoners of war, it was a Japanese project driven by the need for improved communications to support the large Japanese army in Burma. During its construction, approximately 13,000 prisoners of war died and were buried along the railway. As "Guests" of the Emperor of Japan the POWs suffered terrible conditions and inhuman treatment by their captors in the many POW work camps which were situated alongside the "Railway of Death " in Thailand and Burma.

The first survey by Japanese engineers estimated that it would take at least 5 years to finish the 230 mile railway line, but the Japanese army forced their prisoners to complete it in only 14 months. Two labour forces, one based in Siam (Thailand) and the other in Burma started work in August 1942 and worked from opposite ends of the line towards the centre and met near Nikki on the 17th October 1943.


In 1943 Nikki was the main base for seven camps of "F" Force, dispersing over a seventeen-mile stretch north to Three Pagodas Pass. Lower or Shimo Nikki, was the southernmost of the working camps allotted to "F" Force.
Over half of the 230,000 POW's and forced labourers who built the railway died due to their treatment, disease, starvation and lack of medical equipment.
Of the POWs, 6,540 were British, 2830 Dutch, 2710 Australian and 365 Americans perished. After the war finished 112 Japanese officers who took part in the railway construction were found guilty of War Crimes.
It is said that one POW's life was lost for every sleeper laid.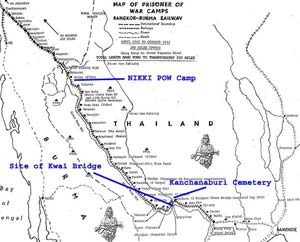 Click to view full size map - large file
The original map was drawn by Phillip Cross.
The kind agreement of Phillip and Carol Cooper of C.O.F.E.P.O.W. to it's use on this site is appreciated.


After the war those POWs who had been buried in the numerous camps alongside the railway were transferred to three new cemeteries at Thanbyuzayat in Burma and Chungkai and Kanchanaburi in Thailand. The dead from camp burial grounds on the southern section of the railway between Bangkok and Nikki (Nieke) were moved to Kanchanaburi and Chungkai.


This included the ashes of 300 prisoners who were cremated at Nikki Camp to try to halt a serious Cholera epidemic in May / June 1943. Their ashes were buried in a box in the Camp Cemetery at Nikke but were later moved into two adjoining graves at Kanchanaburi War Cemetery. Among their number were 22 Gordon Highlanders including Sandy MacDonald.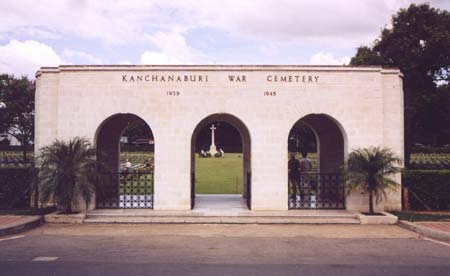 Click on image to view cemetery photographs